Hi to all the Sister Thing Swap Sisters!
This was my second bag, ever!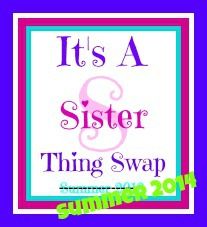 I have to admit that I was a little intimidated about my sister having so much more quilting experience than I do but I soon got past it.
I have been a follower of Bea's blog for quite a while.
This is what I came up with for her.
The pattern is "The Just Right Bag" by Sue Pritt.
It is "fallish" fabrics, with pockets inside and out. The handle is adjustable.
The outside pocket has the first zipper that I have put in since a tayloring class in high school.
The top closes with a magnetic snap.
I will definitely do this one again for myself.
I sent a few other goodies, like a Christmas charm pack and a very special tea that I was introduced to on my recent Alaska vacation.
Thank you Bea for patiently waiting until I got back from vacation.
I really hope we do this again! (Michele?)