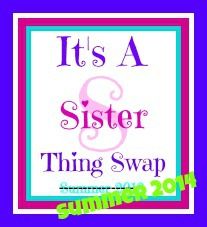 The timing could not have been more perfect!
I
, LOVE this bag!. It's was made from beautiful fabric, it's big, has lots of pockets inside and has a key holder that came in really handy. It was the perfect carry on.
Kathy also sent a Christmas charm pack that I have already picked a table topper pattern for as well as a cute tote pattern.(Hmmm........maybe the Ghastlie swap)
Thank you to Kathy who is an ideal sister and my sister,

Michele for hosting

this swap.